Profile

Free Account
Created on 2009-05-11 10:48:30 (#324457), last updated 2011-12-28 (299 weeks ago)
4,554 comments received, 0 comments posted
2,683 Journal Entries, 84 Tags, 0 Memories, 3 Icons

About
| | |
| --- | --- |
| Name: | julietwhisky |
| Birthdate: | Mar 18 |
| Location: | Australia |
| | |

Mini Bio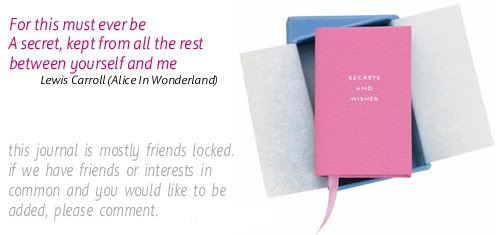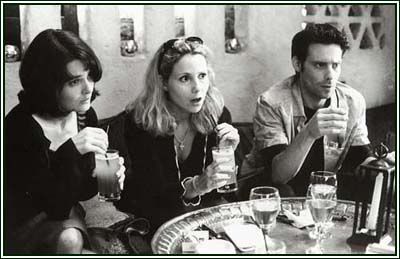 This journal is friends locked as it contains a copious amount of pictures of the offspring. Feel free to friend if you are so inclined.

Layout by

missdenaley
Originally from Melbourne, currently in Sydney. Resigned from work in the environmental sector, and am taking time off from being a part time student (2nd time around) with interests in History, Art and English.

DINK (one in development) Became a Mum in 2006 (to Lucas, born 10 July) and again in April 2008 to Aimee. Often outraged by social issues at home and abroad - convinced the world could be saved if everyone listened to Jackson Browne.

Dislike belly buttons, leeches and I am afraid to swim in the ocean.

Like movies, black tea, thunderstorms, raspberries. Have an annoying tendency to want to turn people's names into nicknames featuring dinosaurs, russian spies, gladiators or pro-wrestlers

I have bungee jumped, been ocean racing, delivered a lamb, fallen over when drunk, been bucked off a horse [twice, same horse], stood in the middle of the MCG on Grand Final day, been [caught up] in a bar fight, won a maths competition. I have never backed a Melbourne Cup winner, seen Citizen Kane, sung in public or been arrested. Or been arrested for singing in public. I watch too much tv.

An avid reader ever since I was trapped on a yacht, aged 8, with nothing to read but Shout At The Devil by Wilbur Smith. Dabble in fandom in the uni off season but generally end up reading more than I write.

Written content of this journal varies between intensely personal and shamefully superficial depending on current events and mood. Topics may include fandoms past and present (LOTR, KA, SGA, HP, Band of Brothers, Blackhawk Down, SPN, VM, House, Heroes, Dr Who, Torchwood, Lost, BSG, Black Donnellys), bleating about work, celebrity gossip, books, babies, movies and tv and the occasional lie just to spice things up a bit.






In the interests of full disclosure I have to confess that I might not be truly "interested" in everything I've listed below.

pee ess: I lied about the lies...



Connect
afl
,
antiques roadshow
,
art
,
autobiographies
,
bbc tv
,
bernard black
, bixente lizarazu,
black and white photos
,
bob harper
,
book shops
, brett kirk,
brit pop
,
bsg
,
celebrity gossip
, compulsory world travel, crying movies,
danny bhoy
,
dr who
,
dylan moran
,
ewan mcgregor
,
foreign language films
,
gene hunt
,
gilmore girls
,
gordon ramsay
,
heroes
,
indian food
,
ioan gruffudd
,
jackson browne
,
jason orange
,
john steinbeck
,
king arthur
,
life on mars
,
lilacs
,
little my
, lorenzo bartolini, lucas neill,
mads mikkelsen
,
manic street preachers
,
mcr
, mikhail gorbachev,
milla jovovich
,
motherhood
,
new amsterdam
,
nicknames
,
nikolaj coster-waldau
,
powderfinger
, reading tea leaves,
ridley scott
,
ryan giggs
,
sam tyler
,
sarcasm
,
scotland
,
sga
,
silky terriers
,
spooks
,
stargate atlantis
,
stock market
,
supernatural
,
sydney swans
,
sytycd
,
take that
,
tea
,
terrence malick
, the blue wiggle, tom long,
tomatoes
,
torchwood
,
trilogies
,
vivid dreams
,
war movies
,
watching the sun rise
,
will self
,
winter
,
x-men
,
yurts
,
zombie movies

People
[View Entries]

Communities
[View entries]

Feeds
[View Entries]

Subscriptions (0)

Linking
To link to this user, copy this code:
On Dreamwidth:
Elsewhere: